About the SLO 4-Wheelers
The SLO 4-Wheelers, a San Luis Obispo County based club, was formed in the spring of 1994. The SLO 4-Wheelers has quickly grown to be a very active club, with members who hail from all parts of SLO County. We're either out enjoying the trails, working to protect our access to them, or just having a generally good time at one of the many four-wheeling events and social activities of the club. Membership is open to all!
Activities include at least one monthly club run. Past runs have included wild flower trips in the Carrizo Plains, scenic cruises over the coastal range, rock climbing in the Sierras (Coyote Lake, Rubicon), and desert rides in the Panamint Valley.
The club also makes several day runs to local area trails in the Los Padres Forest. It has been our intention to try to have as many different types of runs as possible, so whether you have a fully built trail machine or a stock sport-utility vehicle, our club has something to offer you. We like leisurely enjoying our natural surrounding area just as much as slowly crawling over boulders.
Presently the club has adopted two local trails and was involved with CCORE, a coalition of local OHV clubs. We also maintain a working relationship with the local Forest Service and have adopted a local Forest Service campground. We have been involved with the USFWS & USFS in the local Condor Release Program, which occurred near a local OHV trail, and participate in local community events; San Luis Obispo/San Miguel Christmas Parade, local Toys for Tots drive, Templeton 4th of July parade and the American Cancer Society Relay for Life among other activities as determined by our members.
The SLO 4-Wheelers club is also a member club in the California Four Wheel Drive Association. The SLO 4-Wheelers, at the end of each year, donates all excess funds generated by the club to various organizations that work to to keep our Public lands open, including United Four Wheel Drive Associations, Blue Ribbon Coalition, California Off Road Vehicle Association and others as funds allow.
Oh did I mention the General Meeting? No? Well it's held the first Wednesday of each month at 7:00pm. All are welcome so come check us out! Have a good meal, listen to a bunch of four-wheelers make plans for more fun and meet one of the best groups of folks around. Be forewarned, although you don't have to own a 4×4, if you bring it to the meeting you'll probably have half a dozen folks crawlin' in, on and under it!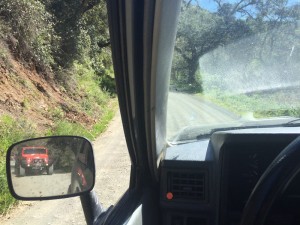 Perhaps the best way to introduce the San Luis Obispo County Four Wheel Drive Club (aka SLO 4-Wheelers) is with an excerpt from our bylaws:
ARTICLE II – PURPOSES AND AIMS
This organization exists in order to bring together members for fun, family-oriented activities and enjoyment of our natural surroundings. This organization shall work to keep existing trails open and create new trails. Safety and user education will be emphasized. This club will work in concert with other user groups to maintain trails, keep open trails open, organize events and any other purpose that the membership feels is necessary. This organization shall be non-profit in character.